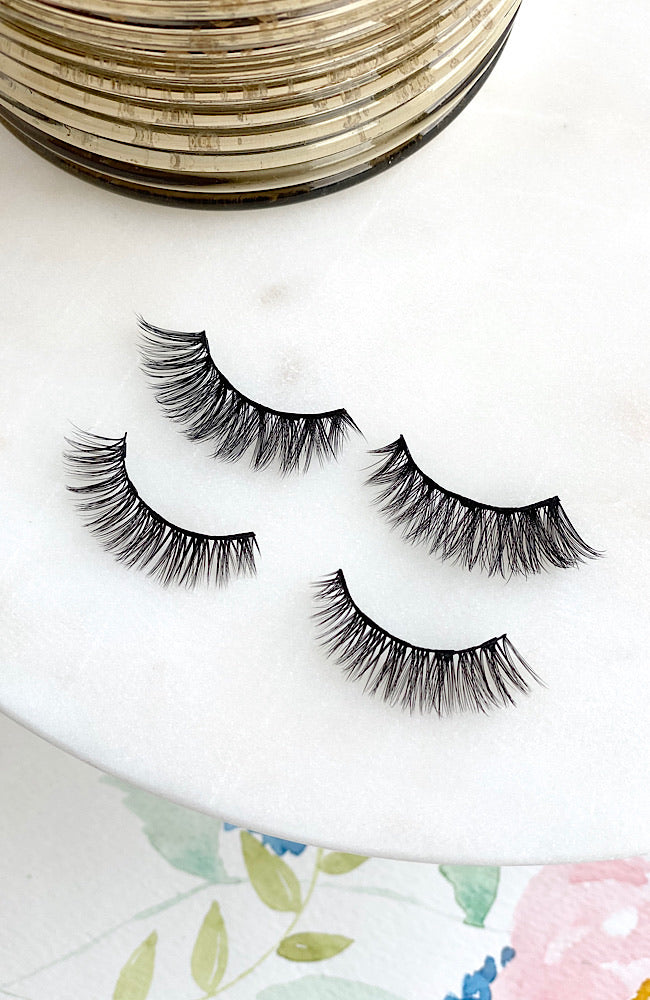 Audrey Magnetic Eyelashes
*Glue-Free Falsies™ are final sale due to their hygienic nature. As such, please read our FAQ and Sizing pages before purchasing to help determine if Glue-Free Falsies™ will work for you.
New and improved lash band for comfort and durability!
Includes everything you need to wear your magnetic eyelashes: Audrey eyelash strips, 12 tiny magnetic wefts (extras in case you lose some), applicator, eyelash brush, detailed instructions, and a luxurious storage box.  
Audrey is full and fluffy with a beautiful curl. ~16 mm eyelash length at the outer edge and tapers to ~7 mm at the inner corner. Clear eyelash band. Lash band ~30 mm wide, trimmable up to 5 mm.
We developed a new version of Glue-Free Falsies™ with five magnets so that you can trim the lash band up to 5mm, but still have enough magnets left on the lash band to attach three tiny magnetic wefts. Make sure you don't trim more than two magnets off your lash band. Tip: only trim 1-2mm at at time. You can always trim more off but you can't undo it if you trim too much.
Click here to learn how to apply and remove Glue-Free Falsies™ and click here for a video tutorial.
As with all eye cosmetics, there is a small risk of eye injury and/or infection with the use of Glue-Free Falsies™ eyelashes.  This product has limitations on its use and is designed for a limited set of circumstances. In no event shall GFF Cosmetics Inc. be liable for any direct or indirect damages whatsoever arising out of or connected with the use or misuse of Glue-Free Falsies™. Use at your own risk. To decrease risks of eye injury, strictly follow the enclosed instructions.
Caution: Use only as directed. Keep out of reach of children. Do not use if you have poor vision, poor fine motor skills, or sensitive eyes. Keep away from heat. Do not wear while sleeping, playing sports, in extreme weather conditions, or during an MRI.  Do not rub your eyes while wearing. Do not get wet. Do not let anyone else wear your Glue-Free Falsies™. Do not allow Glue-Free Falsies™ magnetic eyelashes to touch your eye, eyelid, or waterline. Use extreme caution when applying to prevent accidental eye injury.
*Design protected under the Canadian Industrial Design Act Registration No. 181246 and United States Design Patent No. D887645.